Embrace the future or risk being left behind. This mantra holds profound relevance as Artificial Intelligence (AI) continues to redefine the landscape of marketing and sales.
But just how is AI reshaping these crucial business sectors? In this blog, we delve into the transformative power of AI, exploring its role in enhancing customer experience, driving business growth, and boosting productivity. 
We'll deconstruct how AI enables hyper-personalised content and personalised marketing strategies, and how it amplifies efficiency of routine tasks. We will also examine how commercial leaders are capitalising on AI's capabilities to reach new levels of success. 
Through research insights and expert analysis, this post will provide a comprehensive understanding of AI's impact on marketing and sales and why businesses must adapt to this rapidly evolving landscape. Let's embark on this journey of discovery together.
The Implications of Generative AI for Marketing and Sales
The ascent of AI, and more notably generative (gen)AI, translates into potential impacts on three crucial aspects of marketing and sales: customer experience (CX), growth, and productivity.
With respect to CX, AI enables the creation of hyper-personalised content and offerings, tailor-made based on individual customer behaviour, persona, and purchasing history.
AI also serves as a catalyst for growth by enhancing top-line performance. It equips marketing and sales teams with precise analytics and customer insights to seize demand opportunities. Moreover, AI can amplify  efficiency and performance by automating routine sales tasks, thereby freeing up resources to focus more on customer engagement and potential customers (also resulting in reduced costs). The success of these initiatives hinges on the degree of personalisation.
Meanwhile, the combination of AI with company-specific data and context has facilitated consumer insights at an unprecedentedly precise level. This has empowered B2C businesses to fine-tune personalisation through targeted marketing and sales strategies. Successful B2B organisations are moving past account-based marketing, employing hyper-personalisation extensively in their outreach efforts.
Commercial Leaders Are Optimistic—and Reaping AI  Benefits
Various commercial players are already deploying gen AI use cases, but this is undoubtedly only scratching the surface. Research found that 90 percent of commercial leaders expect to utilise gen AI solutions "often" over the next two years.
The top three use cases are all focused on prospecting and lead generation, where we're witnessing significant early momentum. This comes as no surprise, considering the vast amount of data on prospective customers available for analysis and the historical challenge of personalising initial marketing outreach at scale.
Research found that 90 percent of commercial leaders expect to utilise gen AI solutions "often" over the next two years. (McKinsey & Company)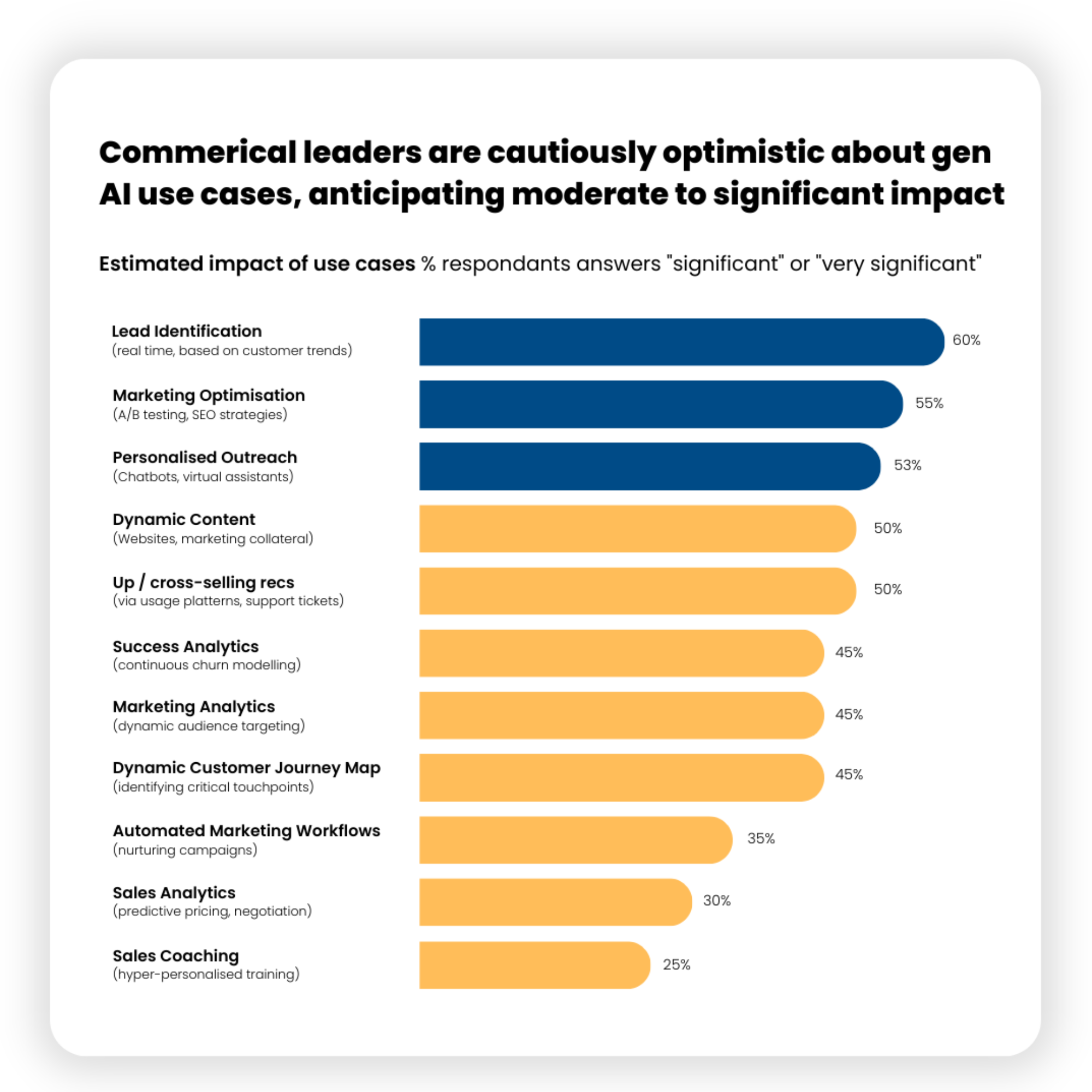 Overall, the most effective companies are prioritising and deploying advanced sales & martech, building hybrid teams, and enabling hyper-personalisation. And they're maximising their use of e-commerce and third-party marketplaces through analytics and AI. 
Research indicates that players that invest in AI are seeing a revenue uplift of 3 to 15 percent and a sales ROI uplift of 10 to 20 percent.
At successful companies you find: 
There is a clearly defined AI vision and strategy.

More than 20 percent of digital budgets are invested in AI-related technologies.

Strategists are looking to the future and outlining simple gen AI use cases.
Such trailblazers are already realising the potential of gen AI to elevate their go to market operations.
Conclusion 
The ascent of AI in marketing and sales is more than just a trend; it's a game-changing revolution that is here to stay. With its unprecedented capacity to personalise content, streamline processes, and deliver precise consumer insights, AI is fundamentally reshaping how businesses operate and thrive. Commercial leaders who are quick to realise and harness AI's transformative power are already reaping substantial benefits. The future is clear: incorporating AI into your marketing and sales strategy is not just an option, it's a necessity for competing in today's digital landscape.
Are you ready to take the leap into this AI-empowered future? If so, your journey begins with Zymplify. Built with a clear understanding of AI's game-changing potential, Zymplify offers a range of AI-powered tools aimed at revolutionising your marketing and sales approach. Don't just take our word for it, try Zymplify for FREE today and witness firsthand the transformative power of AI. Step into the future of marketing and sales with Zymplify and see the difference for yourself.