There are now almost 4 billion email users worldwide. The number of business emails sent and received is expected to be more than 319 billion in 2021. For B2B audiences, email ranks third amongst the most influential sources of information (The first two were found to be colleague recommendations and thought leaders).
So you can see how important it is when you're creating your upcoming marketing strategy. Do you still take email marketing seriously? If you've lost hope in it, or haven't put as much effort in as you used to, here are some email marketing statistics that might just surprise you. Take a look for yourself…
49% of companies use email automation in some form or another.
Emails with video clips can spike up click rates by 300%.
The ROI for email marketing averages at 3,800% or an average of $38 return for every invested dollar.
The best day to send emails is on Tuesday, at 10 am or anytime between 8 pm to midnight.
Demographics
The conversion rate for opened emails on computers is the same for males and females. However, the female conversion rate is higher on tablet devices, whereas male conversion is higher on mobile phones.
73% of millennials say they would rather communicate business affairs via email.
72% of young adults (18 to 24-year-olds) say they prefer opening emails on their phone.
28% of customers say they prefer receiving promotional content via email more than once per week.
B2B email marketing
86% of professionals say they would rather use email for communicating about business matters
Click-through rates are 47% higher for B2B emails as compared to B2C emails
59% of B2B professionals say that email is their biggest revenue generating marketing source
B2C email marketing stats
80% of business professionals believe that email marketing increases customer retention
In the US, 30% of customers who subscribed via email have purchased from the brand they subscribed to.
As compared to other types of emails, welcome emails generate 320% more returns.
According to QuickSprout, people who subscribe via email are 3 times more likely to share your business content on their social media compared to other customers.
77% of people would rather receive promotional content via email than through SMS or social media
77% of customers open emails solely because of the discounts offered.
Emails with personalised subject lines have a 29.3% higher open rate.
68% of recipients mark an email as spam based on the subject line.
Emails with graphics have a 26.89% higher open rate and 4.36% higher CTR.
Targeted emails are 3 x more likely to bring in revenue as compared to non-targeted emails.
Spam email marketing stats
Non-profit organisations face an annual loss of approximately $15,000 because their emails are filtered to the spam folder.
45% of all emails sent are spam. Mostly, it's promotional/advertising spam.
Spam affects businesses. In fact, it costs businesses approximately $20.5 billion every year in terms of reduced productivity and technical expenses.
Email marketing segmentation stats
Segmented emails have a 14.32% higher open rate than non-segmented emails.
Click-through rates are 100.95% more for segmented campaigns.
51% of marketers agree that email segmentation is the most effective technique for personalisation in email marketing.
Demographic segmentation is the most preferred form of segmentation for business.
Mobile email marketing stats
As of late 2018, the number of mobile email users is expected to reach 2.2 billion.
49% of all emails sent are opened on a mobile device. As smartphone users increase, this number is likely to rise too.
According to Blue hornet, 80% of users are likely to delete an email if it isn't mobile friendly.
Mobile emails can account for 20-75% of email open rates for different businesses.
If an email is opened on a mobile device and again reopened on another device, the potential for the click-through rate increases up to 65%.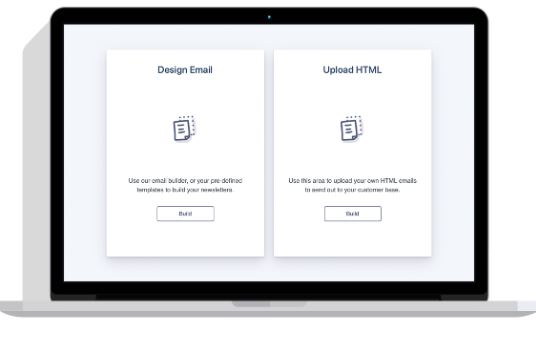 Find out how Zymplify can help boost your email marketing efforts 
With 89% of marketers still using email as their primary marketing channel, Zymplify ensures that you can continue to generate branded emails customised to your targeted audiences. Personalise your content and marketing messages that will resonate with your audience.
Branded Customisable Emails
Build customised branded emails to help connect with and grow your contact database. Zymplify allows you to personalise each individual email with the relevant content for targeted audiences. With multiple templates to choose from, you will find the template that works best for your business and your customer messaging, or start from scratch to build the template that's best for your business.
Integrated Email Campaigns
Finding it hard to justify any return on investment with your emails? With our integrated campaigns, you can attach additional collaterals to your email campaigns. With the use of landing pages, allow your audiences to engage with your emails and have all engagements automatically recorded in real-time within your dashboard.
Email Analytics
Using our email analytics will allow you to see which email sends are performing best for you, as well as giving an insight into how well you are connecting with your audience. With our integrated landing pages, you can track how many leads and engagements you have converted to sales, based on each individual email send.
Website Visitors
With Zymplify's website tracking code installed on your website, you can track how many contacts are visiting your website after receiving your email. View a breakdown of the specific contacts that are navigating to your website, as well as the list of pages they view.
Email Heat Map
Zymplify offers a visual heat map report for each individual email sent from the platform. The report shows which links in the email were clicked as well as the actual individual who clicked on which link. Create targeted email lists based on these clicks for future marketing.
More from Zymplify
Top Inbound Marketing Tools to use in 2019 
Inbound Marketing and Marketing Automation 
The Power of Inbound Marketing: Are You Really Using it Effectively?