As a crucial component of any organisation, your tech stack deserves the same attention as your RevOps strategy. It's how you will be able to scale your GTM initiatives.
Today's revenue engine is powered by a mix of RevOps and function-specific technologies. To increase revenue opportunities, these tools should work together to facilitate the entire revenue cycle from lead generation to realisation. An integrated RevTech stack allows marketing, sales, customer success, and operations teams to work together to exceed KPI benchmarks.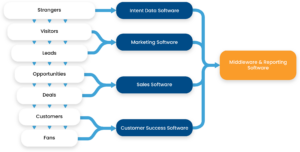 However, creating an effective RevOps tech stack is not as simple as picking up software tools of your choice and deploying them. You need to first figure out which type of software tools does your business need? Which processes will benefit from automation? Will the tech be right for you in the long run? And most importantly, will the applications work well together?
You can't just start shopping apps for your stack – you need to plan and build a strategy. To help, we've created this blog where we share tips for building your perfect RevOps tech stack.
Tip #1: Define & Audit Your Business Needs   
A RevOps tech stack is a configuration of sales, marketing and customer success  technologies leveraged to help your organisation achieve its revenue goals. Step 1 requires that you know, at least directionally, your organisation's revenue goals.
You also need to audit your existing systems to help you assess the gaps in your current tech stack and how the addition of any new software fits with the overall goals of your GTM operations.
Tip #2: Map Your Buyer's Journey  
Following a RevOps approach requires that you align your entire GTM process to the buyer's journey, which therefore requires you to align your RevOps tech stack to the buyer's journey.  Mapping a buyer's journey can sound intimidating, but it's a powerful and enlightening exercise to lean into. You can start with something as simple as a google sheet.
Map your buyer's actions

Align your go-to-market processes

Support your processes with the tools you have in place (or don't)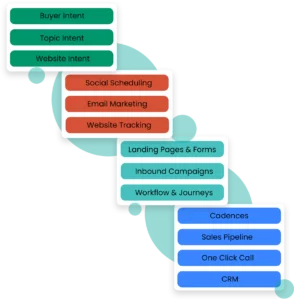 Tip #3: Research Your Options  
Do your research and make a shortlist of products that can fill the gaps you've identified above. This isn't a full evaluation–this is just a shortlist to eliminate outliers and get to a narrow set of potential solutions to put through a full review. Limit this to no more than 3 options– there are thousands of tech solutions, you don't have the time to look at all of them.
Tip # 4: Simplify Your Stack 
To streamline revenue generation and facilitate growth, CROs and CMOs are investing in cutting-edge RevTech solutions. These tools and platforms fine-tune complex revenue operations from start to finish. Business leaders are increasing efficiency across all revenue-generating activities by choosing RevTech solutions that align with their overall growth strategy.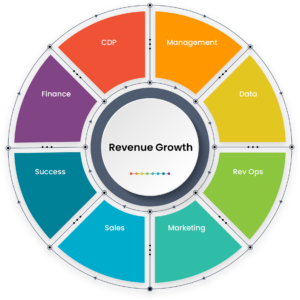 Tip #5: Calculate ROI  
All of your tech purchases are working towards one goal: drive more revenue for your business. Prove it. Work with your vendor here, but hold them accountable. ROI calculations are easily inflated by slight overestimations, but an accurate one can help you make a decision, roadmap your implementation and prioritise your onboarding. It will also set an expectation by which you can measure the impact of the tool for future renewal terms.
Tip #6: Consolidate Your Tech Stack 
Wherever possible, consolidate multiple pieces of technology into one platform so that everything runs more smoothly and efficiently within one cohesive system. Not only will this make day-to-day operations easier to manage, but it can also save money since most consolidated systems come with lower subscription fees than individual products and services would cost separately.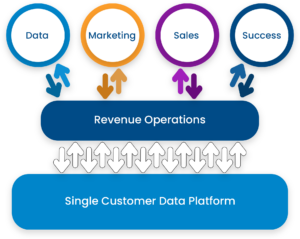 Conclusion: A strategic approach is essential when it comes to creating a perfect RevTech stack – one that meets all of your organisational needs while also saving time and money in the long run. 
By following these six tips –  defining & auditing needs; mapping out customer journeys; researching options; simplifying your tech stack; calculating ROI; consolidating systems – businesses can ensure their RevOps teams have access to all the tools necessary for optimal performance and success!
For more actionable insights into building a RevTech stack to optimise operational agility, efficiency, and revenue generation across all functions, check out our new guide. "How to Build the Perfect Tech Stack for RevOps".
Want to talk to a Zymplify expert on how our go-to-market revenue platform could work for your business personally? Then sign up for a free personalised demo here.